Michael J. Newman provides outside general counsel services to start-up and small to medium size businesses in Illinois. Most of my clients can't afford to hire a full time in-house lawyer, so I give them the edge of having a business lawyer on-call without the expense of having a full-time attorney on staff.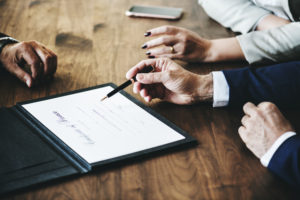 Michael regularly forms new corporations and limited liability companies for his clients on an expedited basis. This means that your new business can be up and running in as little as 48 hours with all the necessary corporate legal formalities in place allowing you to open a bank account, purchase assets, including real estate or hire personnel and conduct business immediately.
Michael is also highly skilled at handling the purchase or sale of clients' business interests, including stock purchases, asset purchases and mergers. I usually get called in when my clients first contemplate buying or selling a business. I normally participate in the negotiations of the terms and conditions of the transaction and then memorialize the agreements reached by the parties in the form of a legally binding contract. Once the contract has been signed and the transaction formalized, Michael works closely with his clients and their accountants to conduct or comply with any due diligence required. Once due diligence has been completed, Michael handles the closing of the transaction and the formal transfer of the business interest.
Michael J. Newman regularly prepares shareholder agreements between shareholders of corporations and operating agreements between members of limited liability companies imposing rights, obligations and restrictions upon the individuals and the business entities. These types of agreements frequently determine the outcome in the event of death, disability, termination of employment, bankruptcy, or sale of an individual's interest in the business.
All business entities with a presence in Illinois are required by law to designate a resident of the State of Illinois to act as the official registered agent of the business to receive service of process and other official papers. More often than not, my business clients request that I act as their registered agent in the State of Illinois and I have developed over 30 years special systems and procedures for handling this responsibility and to maintain the requisite documentation to maintain the business in good legal standing.
Michael J. Newman routinely prepare most types of business related contracts including:
• Asset Purchase Agreements
• Commercial Leases
• Confidentiality Agreements
• Employment Contracts
• Independent Contractor Agreements
• LLC Operating Agreements
• Merger Agreements
• Non-Competition Agreements
• Non-Solicitation Agreements
• Non-Disclosure Agreements
• Partnership Agreements
• Real Estate Leases
• Real Estate Purchase
• Sales Contracts
• Sales Representative Agreements
• Settlement Agreements
• Shareholder Agreements
• Stock Purchase Agreements
• Voting Trust Agreements
• Work For Hire Agreements
In addition, my clients regularly call upon me to represent them in the negotiation of these and other types of agreements. It is the negotiation stage where the deal is finalized and the rights and obligations of the parties set in stone. Good contracting is the critical lifeblood of every business. Complete business failures can often be traced to poor or non-existent contracts. My three decades of contract negotiation and drafting experience can give you the advantage you need to succeed.